www.CharlottesvilleBuffaloBillsBackers.com
Charlottesville Buffalo Bills Backers
WHO WE ARE:
We are the home for Buffalo Bills Fans in Central Virginia and the Greater Charlottesville Virginia area. Come on down and cheer on the Buffalo Bills with us!
WHERE WE MEET:
The Lazy Parrot Grill
532 Pantops Shopping Center
Charlottesville VA. 22911
434.977.1020
WHEN WE MEET:
* We meet up for every Bills game during the regular Season and Playoffs.
* Draft Weekend
* Anytime we can see a Pre-Season Game
STAFF:
Patrick Webb - Founder
Jerry Leon - Co-Captain
Trevor Hepler - Co-Captain
Joe Jablonski - Co-Captain / Staff Writer / Web Master
left to right - Patrick, Jerry, Trevor, and Joe
cvillebillsbackers@gmail.com
www.CharlottesvilleBuffaloBillsBackers.com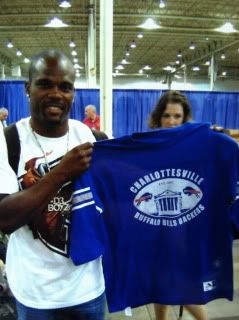 Edited by Charlottesville Bills Fan, 02 January 2013 - 12:38 AM.
Cleaned up post, added Google Map